MSI Automation offers low, medium and high frequency induction heating systems for a variety of conventional heating applications. Most systems are dedicated to a specific heating process. Other systems require repetitive heating and are automated. In cases in which full mobility and a completely self contained induction system is required, MSI's
mobile induction heating system is available.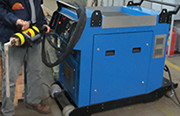 Many metal parts need to be annealed prior to the next step in a production process. In most cases induction heating is the only suitable method to perform the annealing. In the example that follows, a MSI-designed full automatic induction system annealed and then quenched copper tubing to a specific annealed length.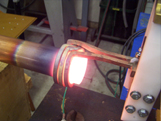 By means of high frequency induction, parts can be silver soldered together quickly and with pin point accuracy. Each system uses heating coils specifically designed for the induction brazing application.
Magnetic Nanoparticle Hyperthermia is being used for the treatment of tumors. The heating effect on nano particles in conjunction with targeted drug delivery can control or retard cancer cell growth. Early study has shown some promising results using this process. Research continues and MSI works worldwide with universities to further develop its system in the coming years.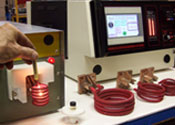 MSI Automation | Designed and Manufactured in the USA